If you are wondering which companies to keep your eye on within the Content & Media industries, then look no further!
We have taken a look at the Analytics & Measurement, Broadcasters, Content Distribution/Production/Protection, Front End, Multi-Platform, OVP & TV Platforms, System integrators and Video Processing categories and collated the exciting companies trailblazing the industry right now.
Analytics & Measurement
We have found that companies are no longer looking for new users, but putting effort into retaining the users they already have an understanding how end users are engaging with content is more important than ever.
Measuring end user engagement throughout the streaming media ecosystem is becoming front and centre for many organisations. Analytics are the cornerstone for success as video intelligence becomes a vital part of what broadcasters, OTT Platforms and Content Creators require for success.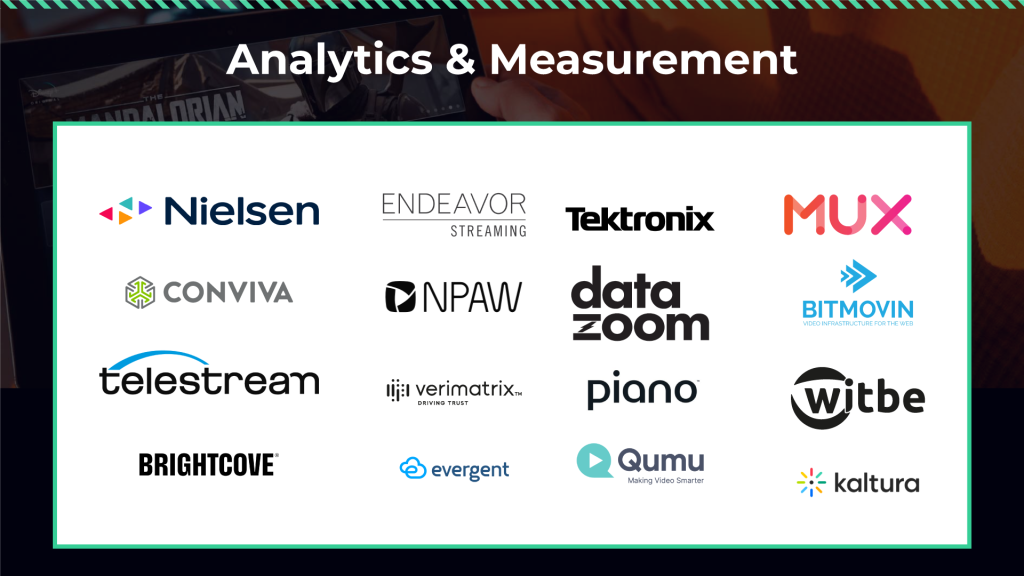 Broadcasters
Broadcasters are constantly reformulating their work and relaunching to try and get it right. More and more broadcasters are adding OTT platforms, continuing to diversify to try and make it in the OTT world.
These household names are seeking to recreate themselves, continue to push boundaries and bring high-quality entertainment to our homes.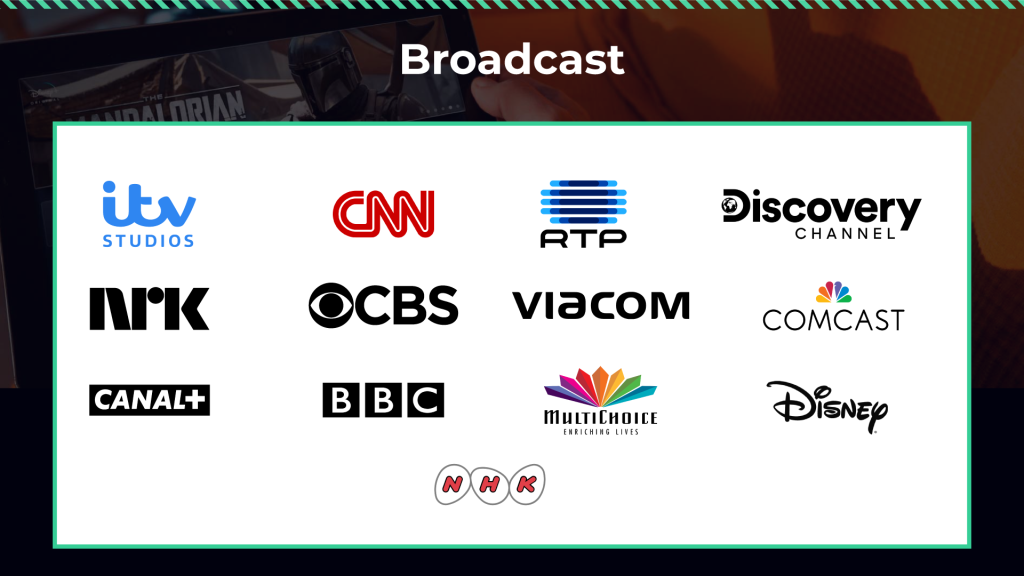 Content Distribution
Content would be meaningless if we couldn't transport it!
We searched for the top companies in the Content Distribution space working hard on getting content from A to B in the most efficient, affordable and reliable way possible. Working hard, these companies are providing continuous innovations with Edge Content Delivery, promising faster and more efficient, agile and reliable delivery.
These are the companies that empower the largest media brands in the world to be successful.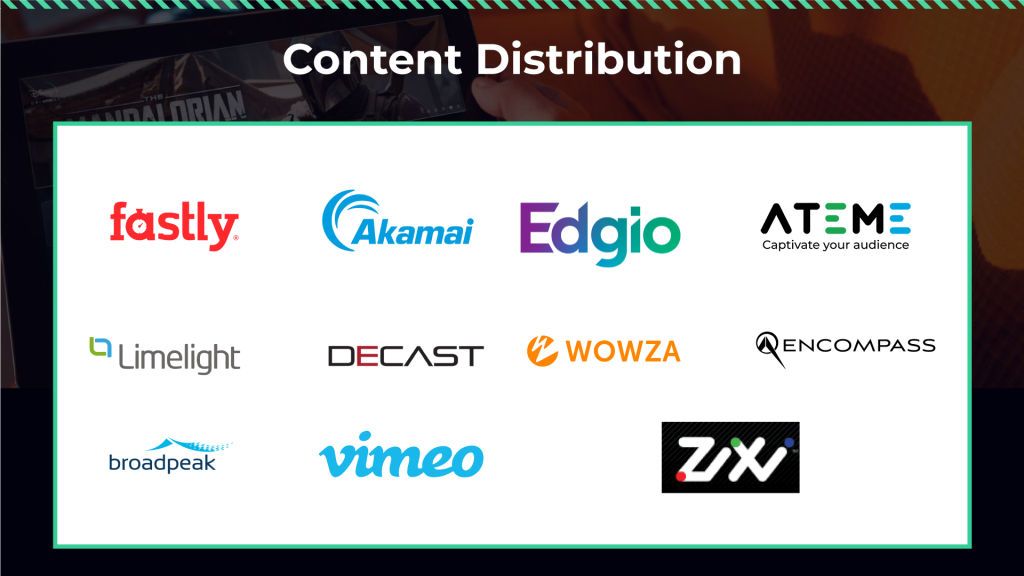 Content Production
With production being more remote and flexible than ever, we've hunted down the top companies within the Content Production space who are proving themselves.
Covid-19 had a huge impact on many industries but gave the Content Production industry a shove out of necessity however, many companies are finding more flexible solutions integral to their continued growth.
Video Production Solutions, MAM, Graphics, Virtual Solutions, Playout tools, Video Editing and much more, are all playing their part to bring sports and entertainment experiences to life.
Take a look at the companies making strides in this area.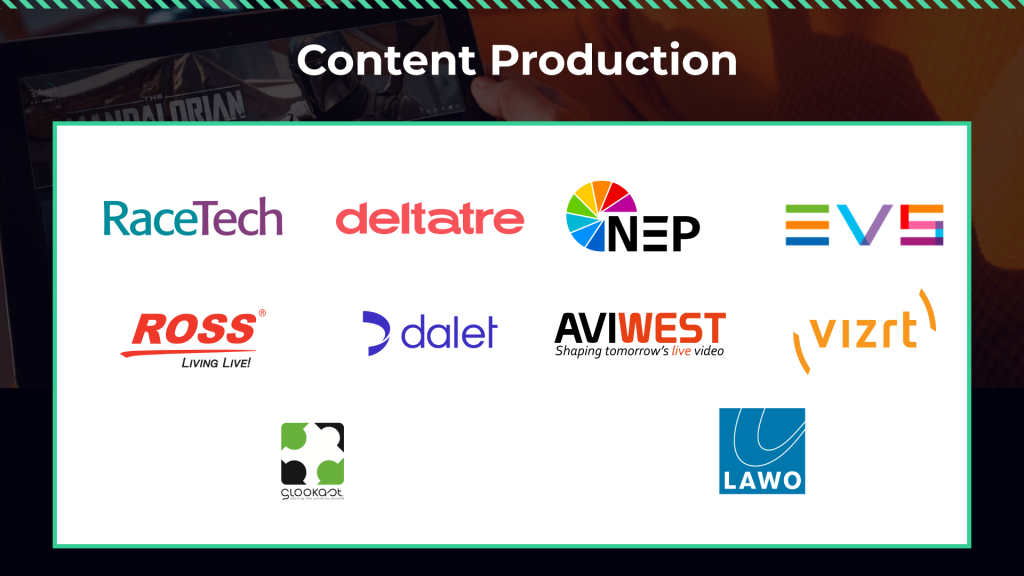 Content Protection
We believe your content is worthless if it is not secure.
With security being at the height of importance due to video content needing to be stored and delivered across the globe, every innovation in security is met with innovation in piracy.
These companies are proving they deserve their spot as a company to watch.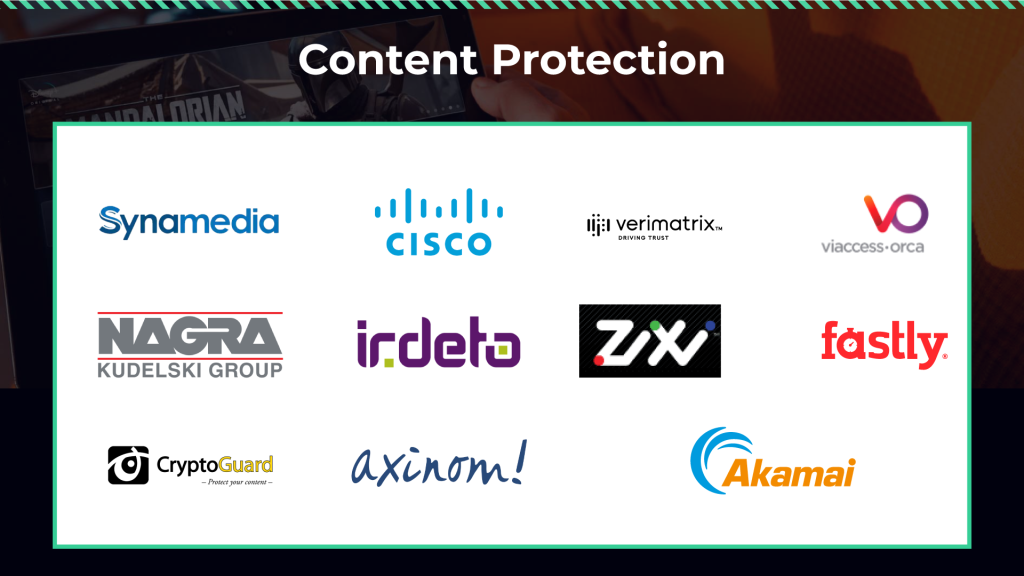 Front End
All your hard work is going to waste if your content does not have good discovery. In addition, users are not going to continue to interact with bad interfaces in this day and age!
Your users being able to find and engage with your content across multiple devices is what every streaming and VoD provider aims for.
Meet the companies working to provide the best interfaces and solutions to help your users engage with your content.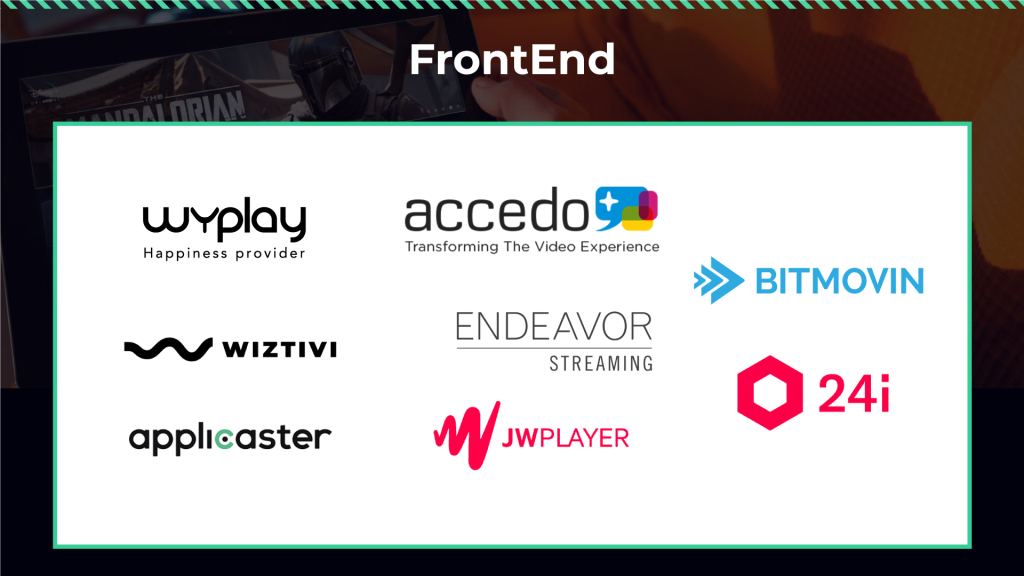 Multi Platform
Fibre and 5G are transforming our video, broadband and mobile connectivity and there are many companies thriving in this part of the ecosystem.
These are some of the most ubiquitous companies around, providing TV, internet and communication services for almost every one of us.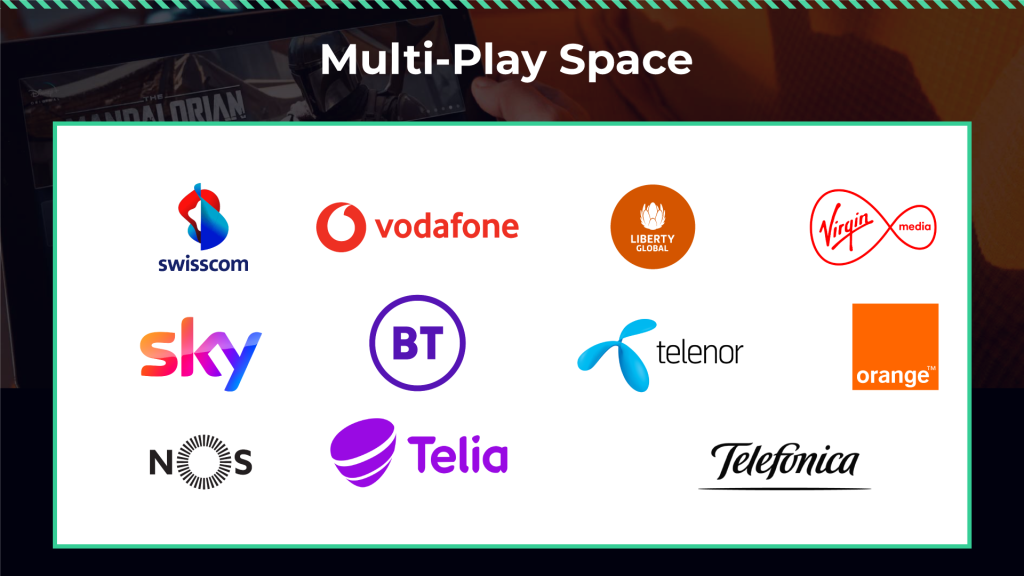 OVP & TV Platforms
The industry is transforming from legacy and On-Prem to cloud and SaaS models, giving opportunity for these companies to grow and develop but, SaaS and cloud-based solutions are no longer the innovation – they are the standard!
With more and more video experiences being powered by the Cloud, with FAST and SaaS here to stay, this part of the industry is dynamic and growing fast, with these companies being at the top of their game.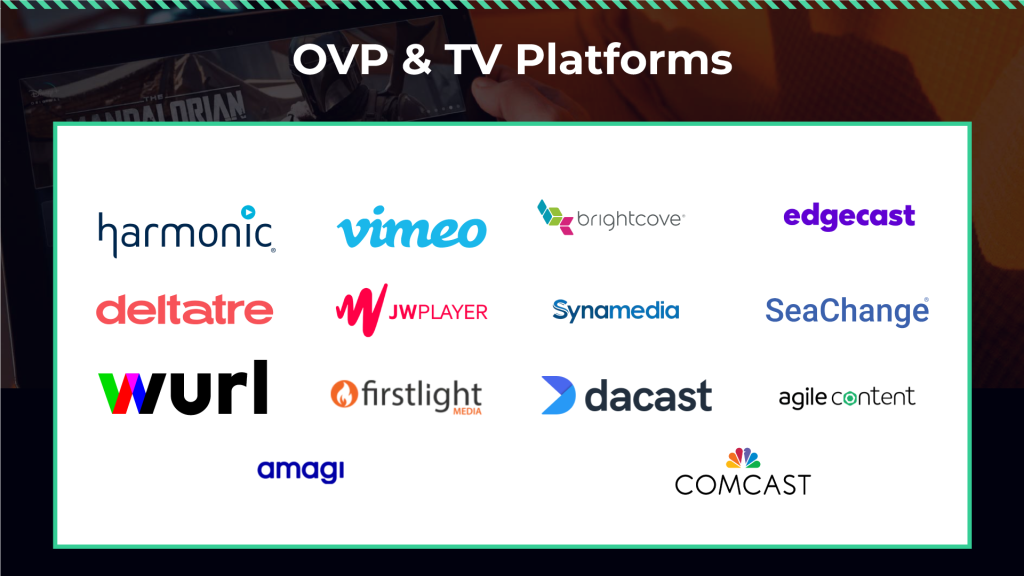 System integrators
With so many great solutions out there, sometimes you just need someone to bring it all together for you. Systems integrators provide you with the best-of-breed solutions to solve your problems.
More and more systems integrators and vendors can be the same people and are providing a mixture of first and third-part solutions. With such a complex technical landscape, a trusted partner that provides technical solutions and advice is key.
Powering sports streaming platforms, MPUs, Newsrooms and media centres around the globe, and enabling service providers to deliver live content to the end user, these companies are pushing this industry forward.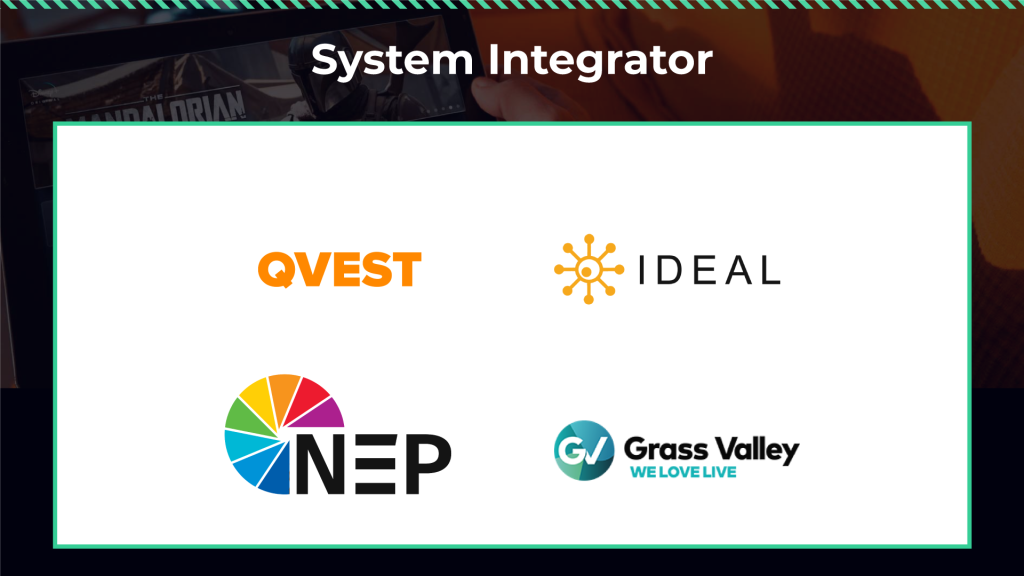 Video Processing
Efficient, high-quality video encoding may not be the most exciting of topics, but it is a fundamental pillar of the ecosystem.
There will always be capacity limitations, so moving video data more efficiently is often the way.
Production and distribution workflows, monetisation of content, growing audiences and putting video workflows onto the cloud, these companies are innovative and changing the way the ecosystem operates.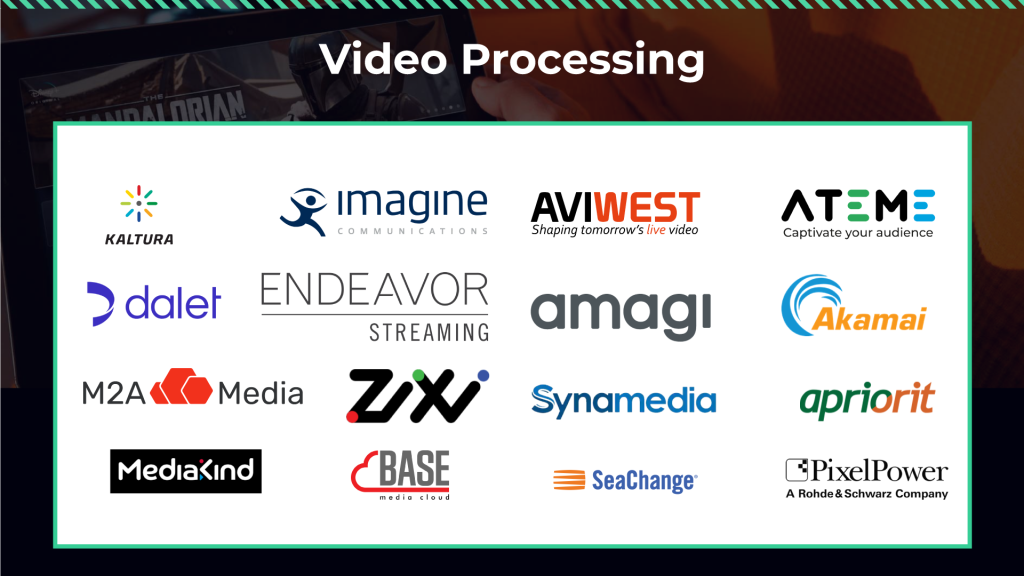 Do you think we have missed any out? Or are you thinking that your business should be on our list? Then get in touch!