This year, Fyuz returned to Madrid for three days of talks and networking, with a focus on Open RAN technology. Here are the key takeaways, straight from the neuco team:
Day 1:
FYUZ '23 kicked off with a bang when Ericsson's EVP and Head of Networks, Fredrik Jejdling, entered the stage for the first big announcement. He announced that Ericsson has 1 million radios ready for deployment in Open RAN. While Fredrik was hesitant to commit to a timeline, it seems that late 2024 is the earliest we will see the upgrades deployed on the market.
The next significant announcement came from Vodafone's Andrea Dona. Andrea revealed that Vodafone currently has 16 live sites in the Southwest of the UK, providing connectivity through Open RAN. This is a truly cross-vendor platform that reaches over 100,000 people. They not only expect to increase the number of sites to 24 by the end of October, but also anticipate that these systems will outperform their legacy equipment in all key performance indicators (KPIs).
The big takeaway from Day 1 is that although progress in Open RAN has been slow, it's no longer just a concept; it's here. Although there is still a long way to go before Open RAN technology becomes the norm, it's exciting to see it come to fruition.
Day 2:
The second day of the conference focused on the challenges of Open RAN and multi-vendor engagement. There was a significant discussion about how operators will need to oversee relationships with multiple vendors, and a big question mark hung over the accountability of the vendors in such a scenario.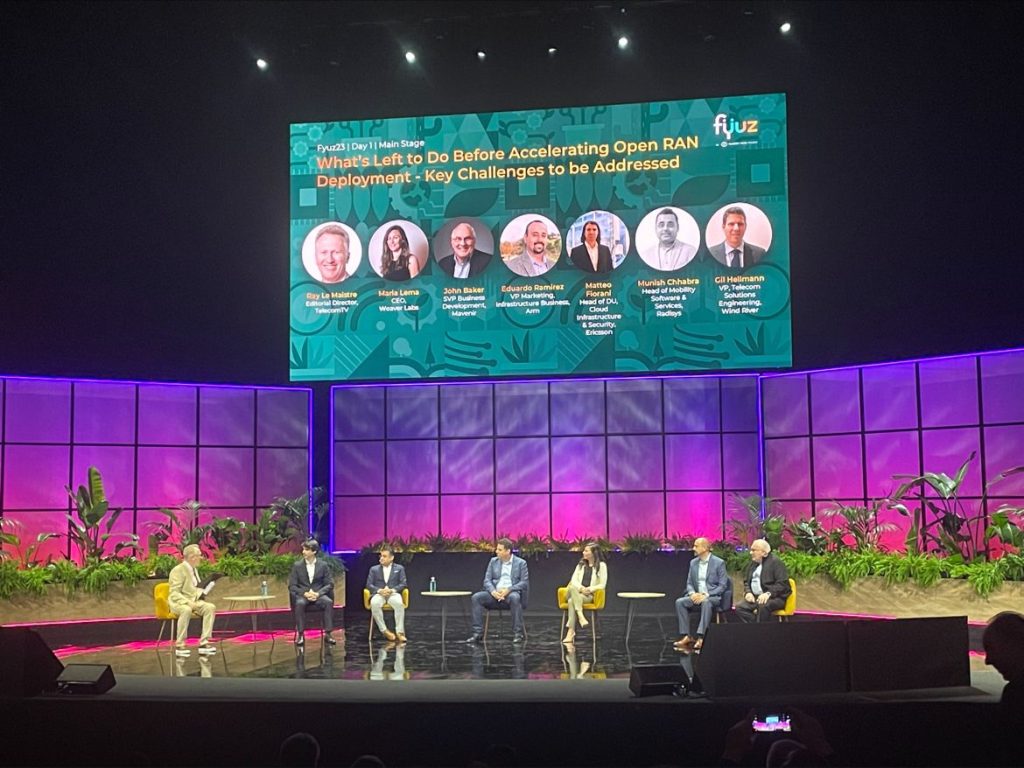 AI was another central topic. Open RAN and automation are interconnected, but there isn't a comprehensive understanding across the industry when it comes to automation. Therefore, a substantial effort is needed to attract talent from other areas to meet growing demands from the connectivity industry.
Day 3:
Day three placed a significant focus on the use cases of Open RAN and how it can help expand into other areas of connectivity, such as private wireless and indoor connectivity. The panel rightly pointed out that 80% of device usage occurs indoors or in a vehicle. This means that a substantial portion of the mobile connectivity market isn't being reached.
While Wi-Fi effectively provides connectivity in these hard-to-reach places, and will therefore remain the dominant connectivity method, questions arose about Open RAN's place in the connectivity ecosystem. The multi-vendor nature of Open RAN allows operators and vendors to take their equipment indoors. Coupled with the fact that neutral hosting is inherent in Open RAN, this could make the transition between indoor and outdoor connectivity seamless.
Summary:
Overall, this year was a bit slower than anticipated. Vendors are slowly getting on board with the process, and operators are even slower to invest. However, through industry bodies such as the Telecom Infra Project, the wheels are slowly but surely turning. We've seen a lot of positivity about the future of the industry, and we all hope it will start to pick up pace in the coming years.