Finally…the industry was back out and meeting face-to-face for the NAB show, after almost two years away & hearing all about it over Zoom, we saw 52,468 + attendees make the journey to Vegas representing 155 countries!
This was my first year in attendance and I must say, it certainly exceeded my expectations.
I thought I'd start this trip off with a bang, so we decided to do a Sky Dive in the desert, jumping 15,000 ft into the sand!! After ensuring Tegan went first, I was able to see the fear on John's face before I was flung out into a 45-second free fall. (PS this is now a yearly tradition so all are welcome for 2023)
About 12 hours later, it was time for the show to begin…
There was certainly a buzz in the air as 9:00 AM hit and individuals entered the West Hall, it was clear everyone was ecstatic & relieved to be back, team neuco included!
Whilst I am not an engineer, It was brilliant to have a front-row seat to the technology which is fundamental to this industry, and begin to learn exactly how different companies utilise their tech stack, whether that be traditional hardware Cameras right through to learning about IP & Cloud solutions for Video & Content Management.
Topics of conversation which were hot amongst the West Hall were focused on Cloud technology, what Private Cloud looks like, and how can Cloud solutions help accelerate your business to the next level. Whether that is companies finally making the transition to becoming fully cloud-dependent or taking this one step further and beginning to pivot towards using a private cloud.
Furthermore, talking to individuals, it was clear that the industry is on its way to being fully recovered from the pandemic, as there are large amounts of widespread growth, from a sales, new product & hiring perspective.
It was really excellent to hear the importance placed on improving Diversity & Inclusion within this industry, but also the reasoning behind the lack of it. It's no secret that this is a male-dominated industry-the men's toilet queue is the best sign of this. So being able to hear about the solutions to tackle this from a grassroots standpoint, was incredibly insightful. I was particularly pleased to hear first-hand and learn more about how the Rise Group is advocating for this and creating new opportunities for Female broadcast professionals.
Growth!!! This was something which from a hiring perspective, is widespread throughout the industry. There is a real focus on strong commercial & engineering talent. This is split between smaller organisations now wanting to break into the US market or US companies wanting to tackle Europe or APAC as their new region of choice.
What does this look like from a hiring point of view?
Due to this high demand for excellent talent, it's arguably more important than ever to ensure seamless and effective hiring processes. Speaking with companies it was interesting to hear how this has been a struggle across the last 18 months, as candidates are involved in multiple processes and have had more than one offer on the table.
A personal highlight for me was being able to meet face to face, with some of the brilliant clients & candidates whom I've worked with across the past 9 months. Being able to see the change I've made by placing individuals into a new organisation is incredibly motivating. Equally as fantastic, was all of the new relationships made with both clients and candidates!
Bring on IBC!!!!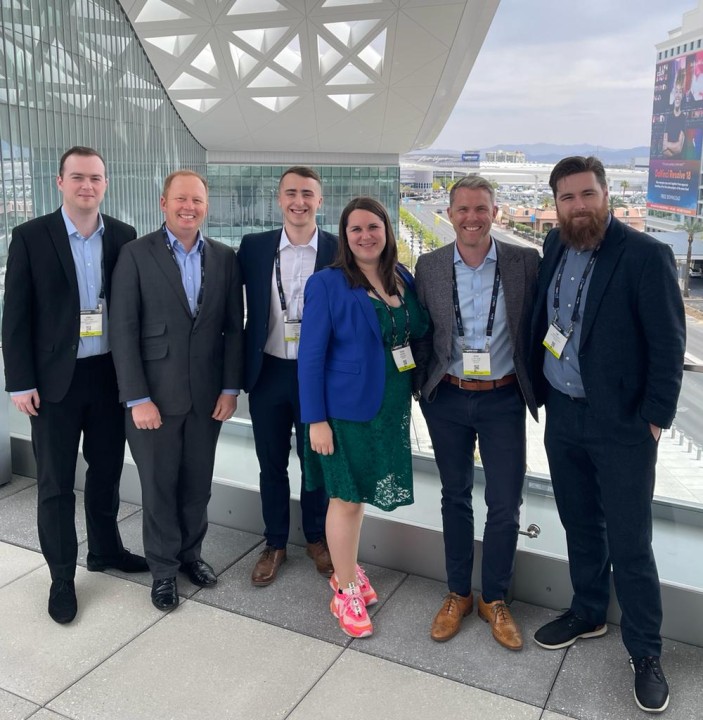 Every Wednesday we sit down with some of the biggest names in our industry, we dedicate our podcast to the stories of leaders in the technologies industries that bring us closer together. Follow the link here to see some of our latest episodes and don't forget to subscribe.